Top 5 highest priced African-Americana items sold at NYC auction
Each year, the Swann Galleries in NYC holds a massive auction of an exhaustive array of items related to African-Americana. The auction fetches well above $1,000,000. in total bids.  The objects are appraised based on their condition, completeness, scarcity and genuineness.  However, just as important as the monetary value, each of these items reveals an unique glimpse behind the veil of history, nostalgia and progress.  Below are the top 5 highest priced items sold at the Printed & Manuscript African Americana auction:
An archive consisting of 35 cartons of published and unpublished writings; correspondence, photographs, albums, diaries, booklets, brochures, etc. which make up the Charles Harris Wesley Papers.  Sold for $43,200.
A large purple felt banner celebrating the International Peace Mission movement, a movement founded in the 1930's and heralded by cult religious leader, Father Divine, in NYC.  Sold for $36,000.
Original pen and ink portrait of Marcus Mosiah Garvey, beneath which Garvey has written an eleven line passage on self-determination and his aspirations for his race.  This drawing was created by the famous sketcher Robert Kastor and was included in a portrait portfolio that placed Garvey among many other important achievers of the 20th c.  Sold for $31,200.
The carved ballast stone dates back to a recovered wreck of a 16th c. English slaving ship.  Experts speculate that it was carved during the Middle Passage by one of its "enslaved cargo."  Sold at $24,000.
(TIED) This placard displays the mournful demand of the non-violent movement and much of the world, just four days after Dr. MLK Jr. was shot in Memphis, Tennessee.  Mrs. Coretta Scott King continued the righteous work that brought King to Memphis and lead a march of approx. 20,000 resulting in better wages and conditions for Dept. of Sanitation's Negro labor in TN.  Sold for $20,400.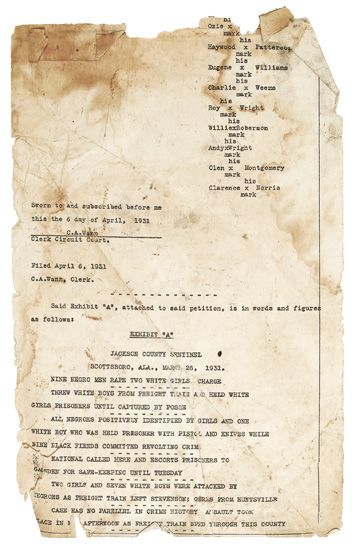 This satchel of papers was discarded in a dumpster in Alabama, yet it holds the evidence of one of the longest and refutable trials to happen during the Depression.  Though acquitted of raping a white woman, the Scottsboro boys suffered greatly during the six years many of them remained incarcerated.  Sold for $20,400.